Very soon, we're starting the next round. Please sign up if you're interested in participating.
PLEASE READ THE RULES BEFORE SIGNING UP!
If you have read and understood all these rules, please put your username in the subject header of your comment box. (I'll remind you to read the rules if you don't.)
>> If you promote the community, you will receive a second skip! Just leave a link to your promotion in a comment. You must do this prior to the first round. You may use (and hotlink) the following: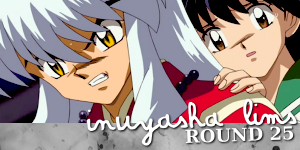 >> JOIN INUYASHA_LIMS ROUND 25
Participants so far:
rhye
*
inufan625
*
rashiea
*
thisism3smiling
wockys
*
kaelienl
*
surrel
*
casper_san
*
kiogo
*
carnimirie
*
Asterisks indicate participants with an
extra
skip (2 total).
The date when the contest will start when we have enough participants will be
August 16
August 23. SIGN UP! Have fun, and please promote the community if you can.