Sorry for the delay. Trying to get everything ready and moved wore me out :x

As always, PLEASE READ THE RULES before signing up. If you have read and understood all these rules, please put your username in the subject header of your comment box.

If you promote the community, you will receive a second skip! Just leave a link to your promotion in a comment. You must do this prior to the first round.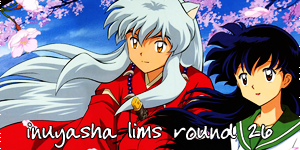 >> JOIN INUYASHA_LIMS ROUND 26



Participants:


rashiea*

cool_spectrum*

xindasnocturne
royalbk
kiogo*

Asterisks indicate participants with an extra skip (2 total).

I hope to start the next round Friday November 26 if we get enough participants! So please sign up and promote the community if you can :)